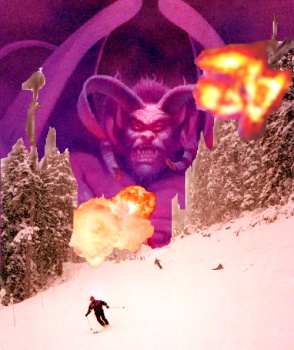 Three weeks later, and the piste is fine. Thank god you didn't get sucked in by that stupid cult. What an obvious scam! With a hot chick in each arm, you glide down the slope. (It is technically possible, and you're just the guy to do it.)
Suddenly, a vast three hundred mile tall goat headed hell fiend rises over the mountains, which melt into hot slag at his mere presence.
"AT LAST, MELTORIKORINEXXXORIAXIONICLUS IS RELEASED FROM THE PRISON IN WHICH HE HAST DWELT LO THESE MANY AEONS! TREMBLE, INSECTS, FOR NOW BEGINS THE REIGN OF INCONCEIVABLE SUFFERING AND PETTY TORMENTS FOR NO GOOD REASON OTHER THAN TO SERVE MY VAST UNQUENCHABLE AND VILE APPETITES!!
"MMOA! MOAHAAAAAHAAAAHAAAAA!!!!"
The sun blinks out.
This is just the beginning...