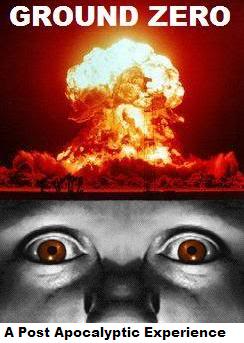 Click.

"...well I still say a compromise can be achieved if we all just sat down and talked things out. I mean at the core, we aren't really so different. I mean we're human beings, for God's sake; we shouldn't be killing each other like animals! I mean..."

Click.

"...are you worried about these uncertain times? Do you stay up at night thinking about the current fucked up situation the world is in? Wondering if some mad man is going to finally press the button, putting an end to it all? Do you think how you'll spend your final moment with your loved ones huddled around you and crying before you're all reduced to mere shadows? Scared that you can't do anything about it? You are? Well never fear! Ground Zero Survival is here! You'll find that the..."

Click.

"...situation has worsened; more troops were deployed today, but..."

Click.

"...how about our President huh? If he was anymore reactionary, I'd think we were living in the country we're currently at war with! Am I right? What country are we at war with anyway? Anyone remember? Did we just spin the wheel again or what? You guys are a great audience! Hey did you hear..."

Click.

"...about peace? Oh gimme a fuckin' break! You think that pussy ass we are the world shit's gonna fly? You can't teach those fuckin' people nothing! You want my solution to the goddamn problem? BLOW IT ALL THE FUCK UP! We can clean up later and..."

Click.

"...pray in these dark times! We must place our faith in Jesus! For when Judgment Day comes he will save all of us that are the faithful, and God will punish the wicked! Oh it will be such a glorious time when..."

Click.

"...you act now you'll get ten percent off! We here at GZS also believe in quality and you'll find our shelters are designed with your family's safety in mind! We have worked hard to make sure our shelters will sustain you and your family years after the entire surface has been turned to ashes! After all don't..."

Click.

"...you think genocide is the answer? I can't believe you just advocated that on national TV! I suppose you think Hitler was right too huh? Its people like you that..."

Click.

"...are the best audience in the world! I tell ya, it's been great. You can catch my next show at..."

Click.
"...the radioactive fuckin' wasteland that the whole goddamn Earth is going to become! You think any of this shit matters? All the fuckin' talk in the world ain't changing shit now! We're on the fast train to nukesville and I for one ain't gonna worry about it! Y'know what I'm gonna do? I'm gonna quit this stupid ass job, and spend the rest of my savings on fuckin' hookers! Yeah that's right, I fuckin' said it and I don't care because when you think about it..."

Click.

"...isn't your family's survival worth it?"

This advertisement has been paid for by Ground Zero Survival Inc.
You have 1 choice: