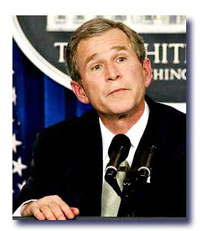 YOU are President George W. Bush. As President, you have the ability to experience many great adventures. Your choices will determine the success of your Presidency!

You are sitting in the Oval Office of the White House. Your Chief of Staff, Josh Bolten, enters the room.

"Good morning, Mr. President. We have several options on the table for today's proceedings. Each of them are of equal importance. First, you could consult with your advisors to inform yourself of the issues facing your administration. Second, you can travel the country campaigning for whatever issue you wish to pursue. You could also brief the press on recent events. Don't forget about keeping in touch with your wonderful family. Finally, you can issue orders to attack another terrorist-loving nation. Mr. President, what do you want to do?"
You have 5 choices: